By Stephanie Latta
Hello crafters! This is Stephanie from A Builders Wife. This post will show you how to make a quick, nearly free, and fun outdoor bucket light. Thanks to LoveSVG, I found the perfect graphic for our annual camping trip to the lake and I can't wait to light up our campsite with these adorable bucket lights.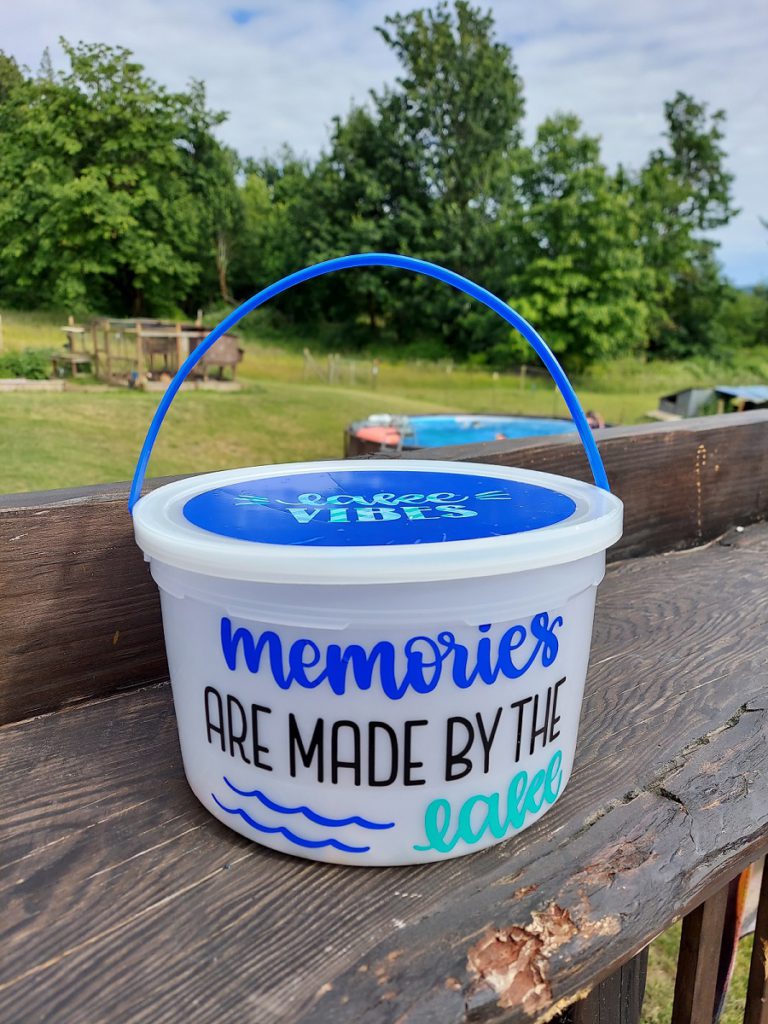 For our bucket, I'm reusing a plastic ice cream pail. Chances are good you may have one on hand just waiting to be reused. We keep these around for lots of uses and this might just be the best yet! Ice cream AND a cute craft? What could be better?
If you're like me, you're always looking for a fun project that uses leftover vinyl. I save nearly every little scrap no matter how minuscule they may be. I just KNOW I'll find a use for them – someday. While waiting for someday to happen though, I have hoarded vinyl in bins, in drawers, and in cubbies just waiting for their time in the spotlight. (Yes, it's a problem and I'm CERTAIN that I'm not the only crafter out there with the same issue!)
Well, get ready my fellow stash keepers – someday is HERE!
This project will be a great use for vinyl scraps and the other supplies needed are either free or can be found very inexpensively.
Supplies Needed:
Plastic Ice Cream Pail – washed and rinsed well
Scrap Vinyl – largest piece used was 8 in x 8 in
Battery-powered tea light or even glow sticks
Marbles, aquarium rocks, a large rock, or something to give weight to the bottom of the pail
Instructions:
Overall this project was quick – about 30 minutes from start to finish. The first step is to make sure that your pail is good and clean. Nobody wants to smell sour milk when you take your bucket outside and it gets warm! After washing, rinsing, and drying II used acetone to remove the ink on the sides of the bucket.
For some reason, the ink on the lid is secured with apocalyptic strength adhesive and despite wrapping the lid with acetone-soaked paper towels overnight I couldn't get the ink to budge! I did find a way to camouflage it though, more on that later.
Finding the perfect graphic is the fun part! LoveSVG has an amazing The Outdoor Adventure Bundle that is FULL of fun graphics for camping, hiking, and lake-time! Check it out here! I was sooo excited to download this bundle and then I realized that the VERY BEST thing about the LoveSVG files (wait for it…this is exciting!) EVERY SINGLE file was named and so easy to organize in my folders! 
I've downloaded a few SVG files in my day – hundreds if not thousands – and when they are all saved as just a number or a cryptic combination of letters and numbers I just about lose my mind!
I can feel my blood pressure creeping up when I'm looking for the perfect file to use for a project – that I KNOW is saved on my computer somewhere in cyberspace but is named 72ghgreen.svg. Thanks to LoveSVG though, I know I can find what I'm looking for quickly and easily. I'm now feeling very zen with this project.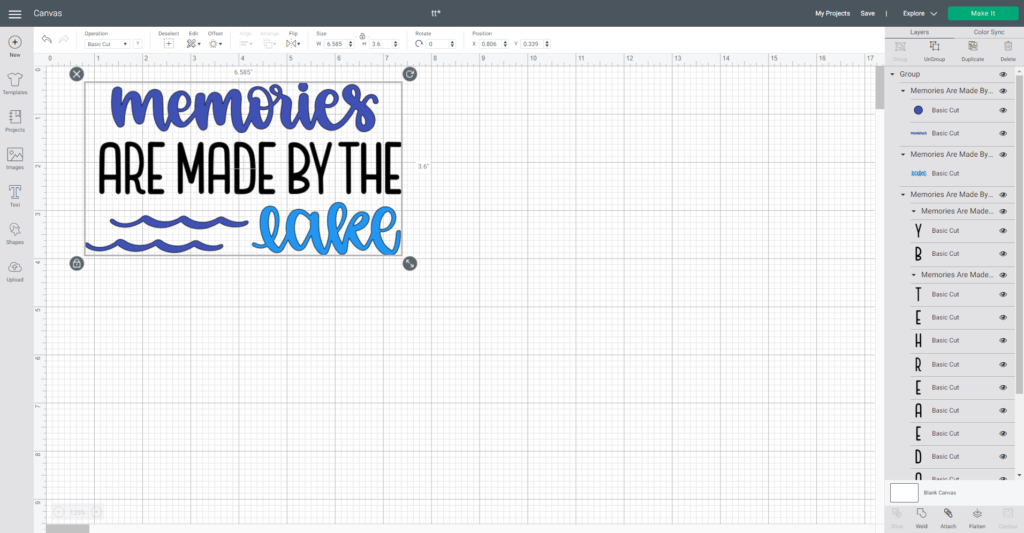 I picked "memories are made by the lake" because I had a nice selection of blue scraps and our lake trip really is the highlight of our year! Grandma, Grandpa, and 4 brothers with spouses and a few kids all cram into three camping sites at the edge of the lake and fish, swim, play games, eat and get to spend undivided time away from technology and our responsibilities at home. To say it is blissful just starts to describe it – and the memories from this trip get talked about all year round! (Mostly about the funny shenanigans that happen, there's always a reason to get a good laugh out of someone's misfortune at camp!) 
I uploaded the file to Cricut Design Space. Then sized it to fit the side of the bucket, about 7 inches by 4 inches. I chose to use three different colors so I ungrouped the graphic and updated the colors in Design Space. Don't forget this step unless you want all the cut pieces to be one color. I also like to attach the images of one color in the same arrangement that I want them to cut so that my words line up perfectly. Cut your images and get to weeding.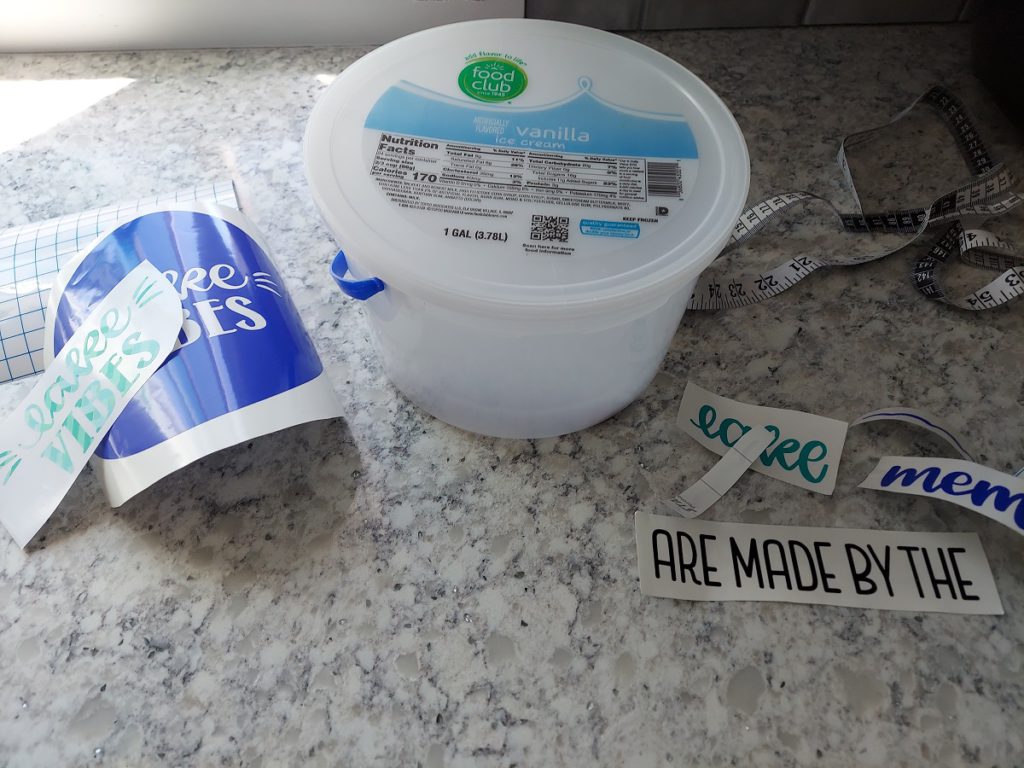 Remember that ugly lid that was wallpapered with ink? To cover up the majority of the vinyl I selected the circle shape in Design Space and sized it to cover the ink. Seven inches was just enough to cover the words and leave a bit of a border on the lid. This is going to be a light so we want to be sure that we don't cover up everything!
To make the words on the lid, I wanted some transparency so that the light would shine through. I uploaded the Lake Vibes file and fit it to the center of the circle. To Slice in Design Space, you must have just two graphics – so I used the weld tool to make Lake Vibes one cut file. Next, you can use control A or select both graphics to slice out the Lake Vibes image. After slicing I removed the words from the circle and kept the welded Lake Vibes image and the circle with the blank area.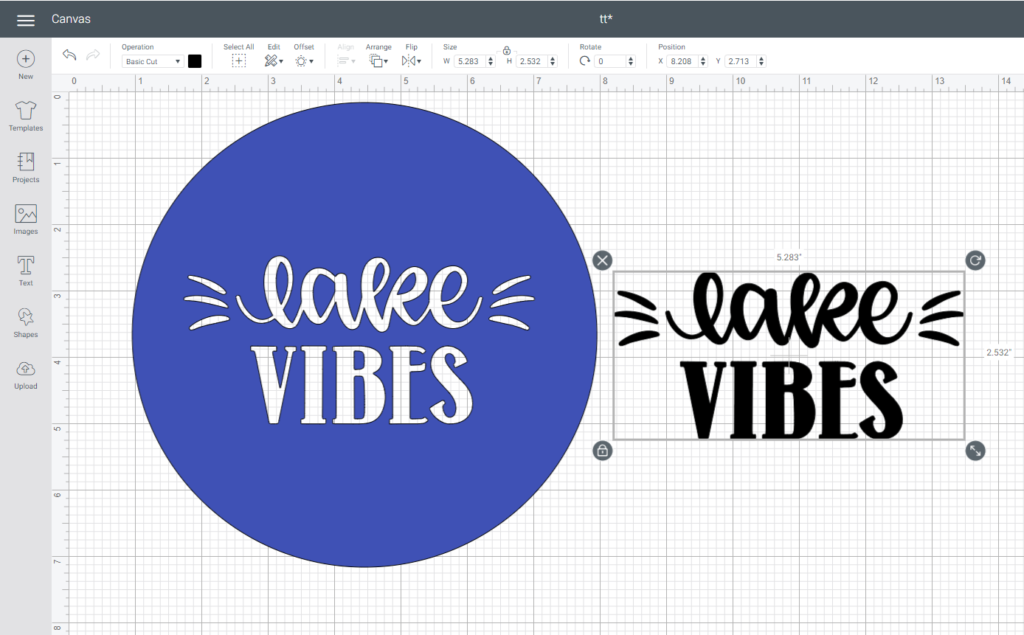 When I bought my Cricut 5 or so years ago it came with a trial pack of papers and vinyl. I remembered I had some cute blue washi tape paper – which would give me the transparency needed for the light to shine through but to also camouflage the lettering. If you don't have a similar paper that's okay too. You can choose a lighter color or white vinyl, or just leave the letters open – they won't be very noticeable when the sun goes down anyway.
After cutting the Lake Vibes out of the washi tape paper I used my transfer tape to layer the words and circle. Craft confession time – I SWEAR that transfer tape is always out to get me and that a perfectly smooth cut can be easily ruined by my sometimes sloppy transferring skills. You'll see in my photos that my circle was a bit lumpy and bumpy, but this is just a fun and nearly free project so I didn't get too hung up on that. I'm a crafter, not a perfectionist.
One trick I did learn when adhering vinyl to plastic is to be sure that your surface is completely clean. Fingerprints or any dust or particles will be your enemy and your vinyl may peel or not want to adhere to the bucket. To clean thoroughly I use rubbing alcohol in a spray bottle and wipe with a cotton ball. Transfer your vinyl to your bucket using your transfer tape- you can either eyeball it or measure to find the center of your bucket. I eyeballed it and did fine!
You're almost done! Since you're going to put this outside you want to be sure to have some weight in the bottom of your bucket so it doesn't fly around in the breeze. I used some smooth rocks that I believe I found at the dollar store. Aquarium rocks or even popcorn kernels, rice or dried beans would also work great.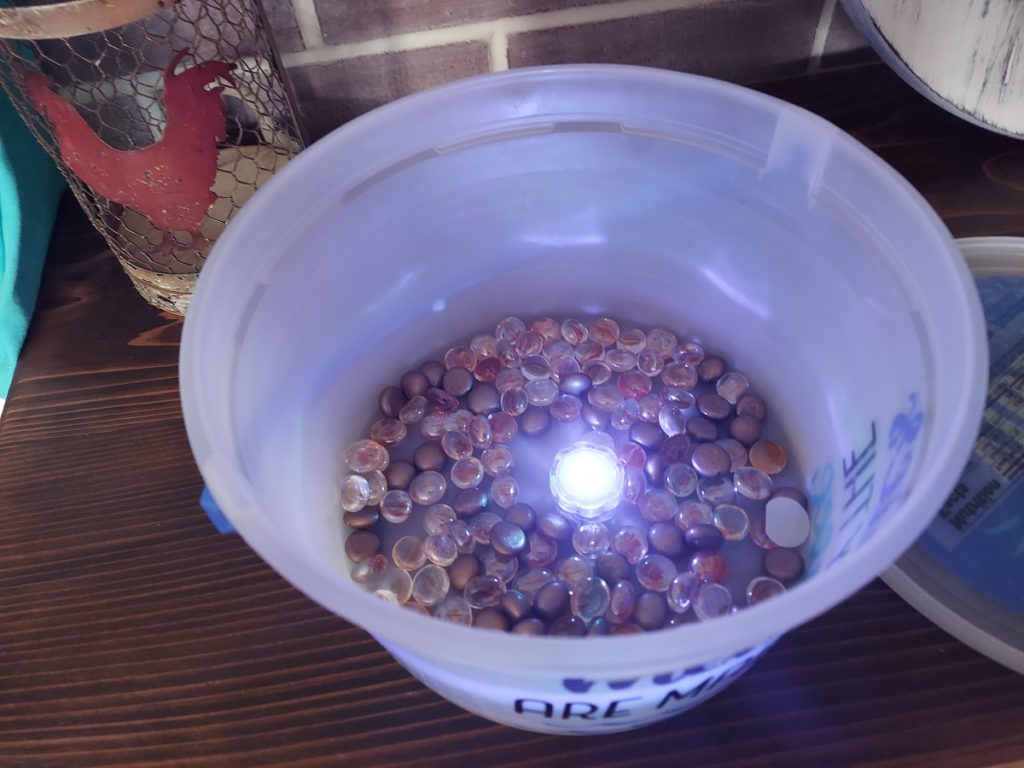 Add light to finish your bucket. LED tea lights have come a long way and I found some pretty inexpensive color-changing tea lights on Amazon that are just perfect for this. You can either just set the light on the bottom of the bucket, or if you have little people that may want to play with it you can hot glue it to the lid. I'm thinking glow sticks would also be perfect for this also, just won't have the ability to turn on and off.
And there you have it! A fun, nearly free, outdoor summer bucket light!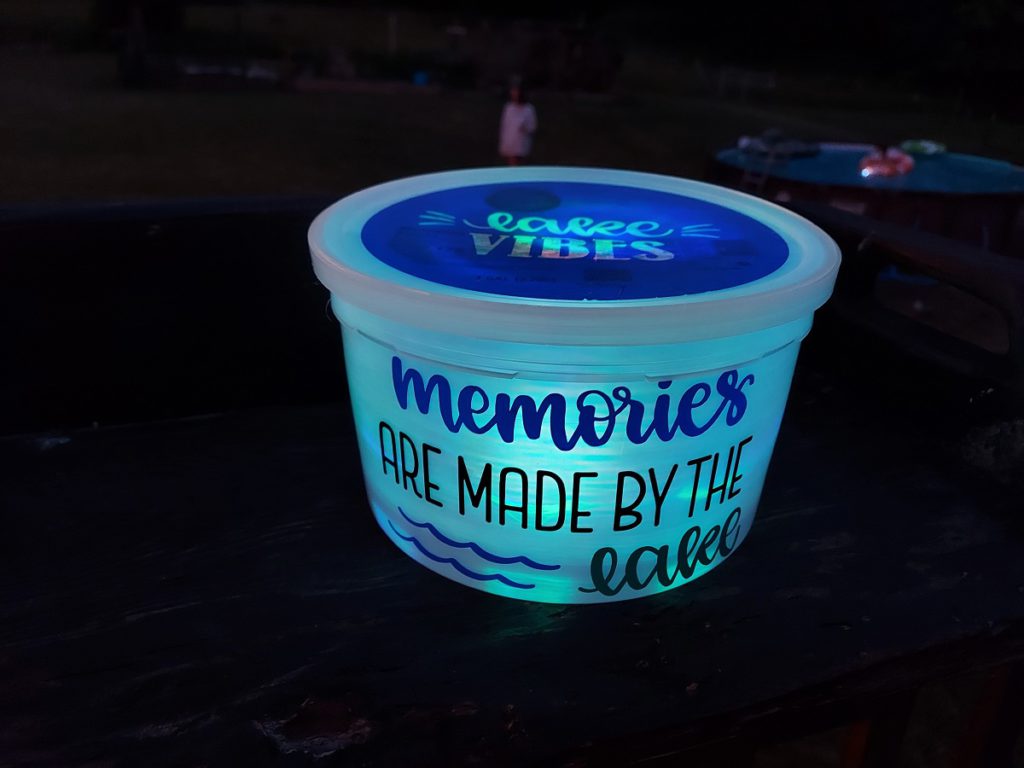 I hope you enjoyed this tutorial and are inspired to use up some of your vinyl stash and create something to enjoy while making memories at the lake, campsite, or patio this summer. Check out The Outdoor Adventure Bundle from LoveSVG to get inspired to make something for your next camping trip or outdoor party. If you liked this easy and thrifty craft, be sure to visit my blog abuilderswife.com for more tutorials, thrifty fun, and follow along as we live life one project at a time.